Quick Answer: Is Suave Cruelty-Free and Vegan?
Suave became cruelty-free in February 2020. The brand became the latest Unilever brand to acquire PETA's accreditation. They're committed to ending animal cruelty and have since featured the global Beauty Without Bunnies logo on their products. On the other hand, Suave is not vegan. They use animal extracts like collagen, lanolin, and carmine in their production.
Suave has been building a strong following of beauty lovers for years. The brand was founded in 1937, and the company's first product line was hair tonic infused with essential mineral oil.
Today, their catalog consists of over 100 products, including body lotion, hair wash, shampoo, facial cleansers, and deodorants.
Suave products are proven to deliver results. The brand distributes majorly in the US and a few parts of South America, such as Brazil and Argentina.
Their headquarters is in Chicago, Illinois. The brand was originally started by the National Mineral Company in the US, but it is presently owned by Unilever.
Suave was in the news earlier this year for their cruelty-free claim. In this guide, we provide our readers with all the details they need to know about that event.
Is Suave Cruelty-Free?
For a company and its products to truly be considered cruelty-free, they must meet all of the requirements mentioned below:
Products must not be tested on animals by the brand or a third party
Products should not be sold in markets where animal testing is required by law
Products should not be sold in China
Does Suave Test Its Products On Animals?
Suave has joined the growing trend of Unilever brands that are collaborating with PETA to end animal cruelty. The brand recently earned PETA's accreditation and has since updated its animal testing policy to the following:
"Our Suave policy prohibits all animal tests, anywhere in the world. Over 30 years ago, our parent company, Unilever started to use non-animal testing methods to assess the safety of its products and ingredients. Unilever's ongoing work on alternatives to animal testing, and its commitment to promoting their adoption globally, has also been recognized by PETA who has listed Unilever as a 'company working for regulatory change."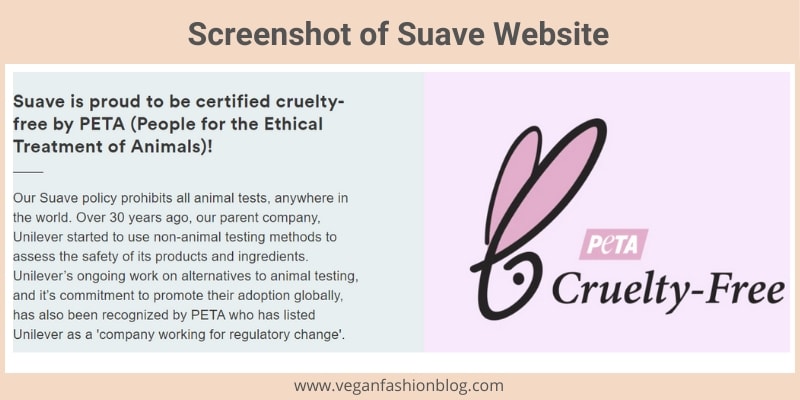 This is a welcome trend among Unilever brands. Suave follows in the footstep of the likes of Dove, who have also recently pledged to end animal cruelty.
Does Suave Test Its Products On Animals Even When Required By Law?
Suave is the only Unilever brand certified by PETA that doesn't sell in areas where animal testing is required by law.
Suave only distributes in the US, Canada, and South America. The law in these areas doesn't require compulsory animal testing.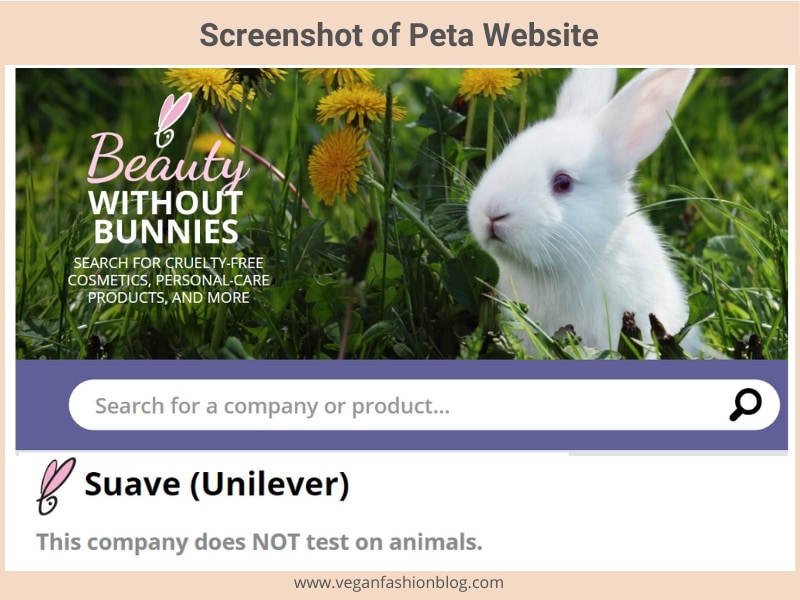 Does Suave Distribute Its Products In China?
Since Suave has been accredited by PETA, it's easy to assume they earned that by not selling in China. While this is true, some Unilever brands that are certified by this authority still sell in the area.
Fortunately, Suave is not the first Unilever brand to join the list, but theirs is so much more convincing than the likes of Dove and Wet N Wild who have continued selling in China after obtaining the certification.
Is Suave Owned By a Parent Company?
Suave is a subsidiary of Unilever, one of the largest multinational corporations in the world. Unilever remains in PETA's category of brands – "working for regulatory change".
However, a number of their brands have been certified cruelty-free by PETA.
Is Suave Vegan-Friendly?
A brand can only be considered vegan if they don't use any form of animal-derivatives in their formulation. This means their formulation must be free from lanolin, carmine, collagen, and organic beeswax.
Suave doesn't claim to be vegan. They're not certified vegan by any authority, nor does any of their products sport a vegan logo.
Do Suave Products Contain Any Animal Parts Or Anything Derived From Animals?
Suave doesn't claim to be vegan, and they have no vegan policy on their site that indicates so. The brand uses some suspicious ingredients, such as glycerin.
Some of these ingredients can be derived from either plants or animals. Without any confirmation from the brand, it's difficult to tell the source of such ingredients.
Every ingredient of their product is published in a list known as "smart label". Apart from animal-origin ingredients, Suave products are also not organic but are free from harmful chemicals, such as paraben and gluten.
To be honest, if you're looking for a completely vegan brand, Suave is not the best fit for you. Not a single one of their formulation can confidently offer you such.
Summary
PETA's certification is a step forward in maintaining a cruelty-free production process. However, the brand must now build on its newfound reputation by producing vegan lines.
By staying off the Chinese market, their cruelty-free claims are much more believable than Unilever.