Is Tatcha Cruelty-Free and Vegan?
Tatcha is 100% cruelty-free. The brand doesn't carry out testing on animals, and they steer clear of markets where strict testing is required by law. They are not 100% vegan but also have a couple of vegan-friendly lines and have earned a certification from PETA for their cruelty-free status.
Tatcha is a Japanese skincare brand that was founded in 2009 by Victoria Tsai. The majority of their formulations come from an ancient skincare routine that dwells on organic ingredients.
Tatcha's products are suitable for all skin types. This is because a lot of their formulations feature natural ingredients, such as licorice, rice bran, and pearl. However, not all of them are vegan.
You can shop for Tatcha's items from the official website or any Sephora or Ulta Beauty. Some of their product line includes serums, revitalizing creams, and moisturizers.
Is Tatcha Cruelty-Free?
These days, all that's needed to certify that a brand is cruelty-free is a vague statement that says "we do not test on animals" and a certification from PETA to back those claims up.
For us, it runs deeper than that. Certain criteria allow us to recognize a cruelty-free brand.
These criteria state that a cruelty-free brand must not carry out animal testing or be forced to test when required by law.
Even though Unilever owns Tatcha, we can confirm that they don't adopt the same testing policy as their parent company. Hence, we've added Tatcha to our list of cruelty-free brands.
Are Tatcha Products Tested On Animals?
Tatcha does not carry out animal testing at any point in its production process.
Even though they're owned by Unilever – a company that owns a lot of subsidiaries that carry out animal testing – Tatcha's testing policies are different from that of Unilever.
In addition to not testing their final product on animals, their formulation does not undergo animal testing, as well. They only source materials from certified cruelty-free suppliers.
Do They Test On Animals When Required By Law?
All of their production processes are in line with the policies of the FDA.
Since they distribute mainly in Europe and small parts of Asia, they're only compelled to comply with the European authorities who, fortunately, do not consider animal testing to be necessary for cosmetic products.
The only areas where compulsory testing is required by law is in mainland China, and Tatcha does not market their products there.
Are Tatcha Products Sold In China?
Tatcha's products are manufactured in Japan and the US and distributed to other places. The brand confirms that they don't sell in mainland China, but their products are available in two stores in Hong Kong – Barneys and Joyce Beauty.
The reason they've remained cruelty-free despite selling in Hong Kong is that the strict testing law isn't in effect in the area, unlike other parts of China.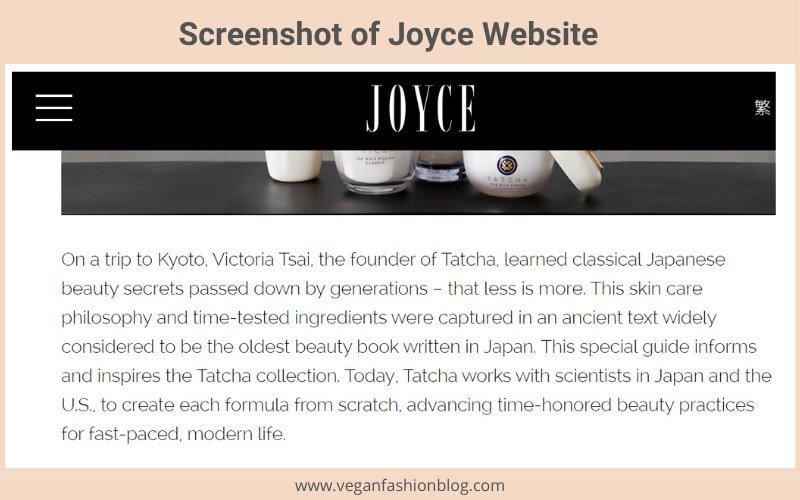 Does Tatcha Have Cruelty-Free Certifications?
Tatcha is certified by PETA. They obtained this certification before the $500 million takeover by Unilever in 2019.
Although their certification gives more credibility to their cruelty-free claims, they're omitted from Leaping Bunny's database.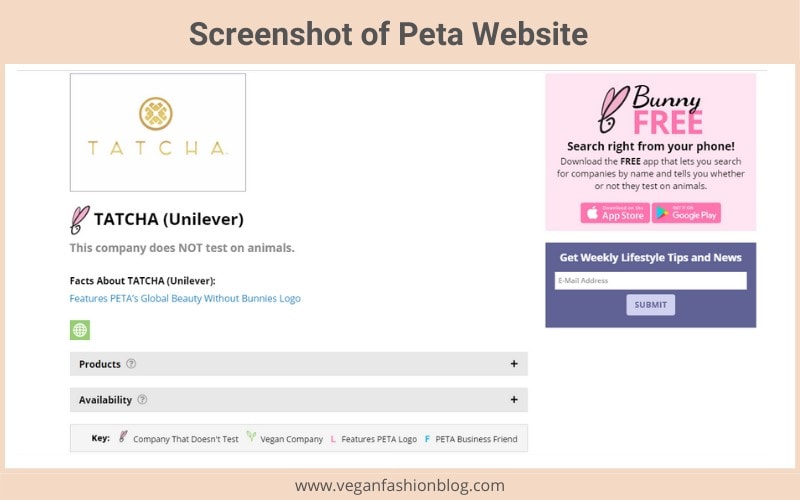 Is Tatcha Owned By Another Company?
Tatcha is a subsidiary of Unilever.
The brand was acquired by Unilever in 2019, and the fear among most consumers is that the brand will soon follow in the footsteps of other non-cruelty-free brands managed by this multinational company.
Just so you know, Unilever has some brands that were acquired years ago that are still operating as cruelty-free to date. This list includes Dove, Living Proof, and Simple.
If others were allowed to maintain their status, there's no reason why Tatcha won't.
Are Tatcha Products Vegan?
Tatcha is not a 100% vegan line. They do have a number of products that don't contain animal derivatives, but you can see from their ingredient list that they feature lanolin, pearl, and silk in their formulations – all of which are animal-origin ingredients.https://www.tatcha.com/natural-ingredients.html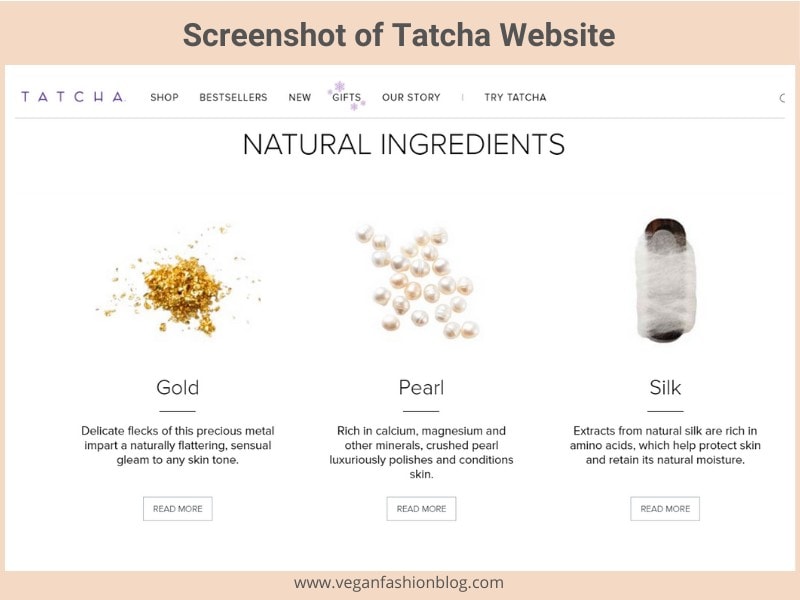 Before placing an order for any of their items, we recommend you look through the ingredient list to see if any of these animal-origin ingredients are included.
Some of their product line that contains these ingredients include the ageless revitalizing cream, indigo soothing silk body butter, Kyoto red silk lipstick, and a vast majority of their luminous hydration line.
Some of their vegan-friendly products include the following:
Vegan Skincare Range
Ageless Enriching Renewal Cream
Camellia Gold Spun Lip Balm
Gold Camellia Beauty Oil
Original Aburatorigami Japanese Beauty Papers
Pure One Step Camellia Cleansing Oil
The Essence
The Rice Polish: Deep
The Rice Polish: Gentle
The Serum Stick
The Water Cream
Violet-C Brightening Serum
Summary
Tatcha's products are free from harmful substances like paraben or formaldehyde.
We advise you to take a stroll to their website and check through the ingredient list to fish out the presence of animal derivatives before placing an order for any of their products.
This will prevent you from making the wrong choice if you're vegan.