Quick Answer: Is Trust Fund Beauty Cruelty-Free and Vegan?
Trust Fund Beauty is 100% cruelty-free, non-toxic, and vegan. This means that none of the ingredients used in their products are tested on animals at any point in the production process. It also means that their cosmetics are not animal-tested even when required by law.
Trust Fund Beauty Cosmetic Company was founded and launched in 2014. The brain behind this billion-dollar idea was Samara Granofsky.
She started the brand as a homage to her late mother, who succumbed to cancer due to chemotherapy.
The treatment caused yellowing on her mother's nails, which led Samara to long for nail polish that would help her feel better. At the time, there was a limited range of colors and no good natural options.
Samara launched the Trust Fund Beauty after the passing of her mother. It started as a nail venture, then slowly expanded to other products.
Currently, Trust Fund has production branches in Europe and the USA.
Is Trust Fund Cruelty-Free?
For a cosmetic product to be cruelty-free, ingredients in its products should not be tested on animals, even when required by the law or by a third party.
The following criteria should be satisfied by any cruelty-free brand. We will analyze them one by one.
No animal testing.
None of the products or any of their ingredients should be tested on animals under any circumstances.
They should not test on animals even when required by law. This is if the product sells in countries where the law requires animal testing.
The products should not be sold in China. China requires that cosmetics shipping into the country be tested on animals, so any brand identifying as cruelty-free should not trade in the country.
Are Trust Fund Products Tested On Animals?
Trust Fund is a cruelty-free brand and does not allow testing of their products on animals. This cosmetics manufacturer is also certified by Leaping Bunny as cruelty-free.
Below is a statement from their animal testing policy.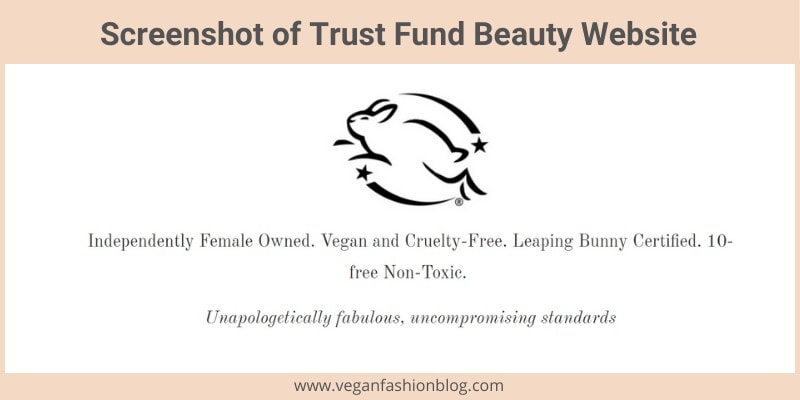 Do They Test On Animals When Required By Law?
No. Trust Fund is a 100% cruelty-free brand, which means they do not do animal testing at all, even when the law requires it. The company also does not allow third-party companies to test products on animals on their behalf.
"Our goal is to create products that are ethical and of the least toxicity possible, while still maintaining the quality and function of the product. These are products that work."
Suppliers or any affiliate companies are not allowed by the manufacturer to carry out any in-house or laboratory animal tests.
Are Trust Fund Products Sold In China?
Trust Fund Beauty does not sell in mainland China, where all cosmetics shipping into the country have to be tested on animals.
Any cruelty-free companies selling to mainland China will be violating the Chinese law on imported cosmetics.
Pre-market animal testing is compulsory in China. Also, post-market testing on products is mandatory if the products receive complaints from customers.
The only time when animal testing is an exception is when the products are being sold online and delivered directly to the customer.
Does Trust Fund Beauty Have Accreditations and Certifications?
Trust Fund Beauty has received accreditations and certifications from The Ethical Bunny, which is among the top animal rights organizations for cosmetics.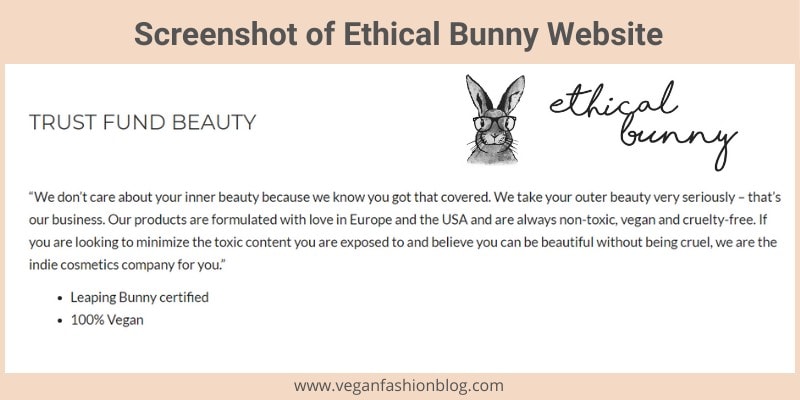 Is Trust Fund Beauty Owned By Another Company?
Trust Fund Beauty is not owned by a third-party company that tests on animals. To date, Samara Granofsky, the founder and creator of this cosmetic line, is still the owner of the company.
Is Trust Fund Vegan?
To be vegan means that the brand doesn't use any animal-derived elements or by-products in the production process.
Trust Fund products have been certified and classified by Ethical Bunny as cruelty-free, non-toxic, and 100% vegan. This means that they don't contain any ingredients derived from animals or animal by-products.
Natural and vegan are two commonly confused words. Note that even if a company uses animal-derived products like honey, beeswax, and other wildly harvested ingredients, it's still not vegan.
Trust Fund Beauty does not use any of these products.
Some vegan products by Trust Fund Beauty include:

Nail Polish
No Filter
Always Sugar Coat It
90's Icon
Champagne Socialite
Zero Chill
Midnight Snack
Fly Private
Bye Felicia
Latin Lover
Game Changer
Gossip Mag
Rich Bitch
Do You Know Who My Father Is?
Put a Ring on It
Spring Detox
Russian Morning
Base Coat
Top Coat
Eyes
Galaxy Gazing
Debauchery
Gin and Platonic
Risky Romance
Unicorn Vibes
Wasted on Whisky
Lips
Dirty Doll
Dripping in Success
He's Been Cancelled
Love is Love
Menace To Sobriety
No Self Control
Pretentious Pout
Unprofessional
Weekend Antics
Win Time
Summary
Trust Fund has already proved itself to be a cruelty-free and vegan brand that delivers excellent results to its customers.
Besides that, it's certified by renowned animal welfare organizations like Leaping Bunny, so you can feel free to use their products without guilt. Let's choose cruelty-free and end animal testing!