Quick Answer : Is Urban Decay Cruelty Free and Vegan?
Urban Decay is a cruelty free brand that is certified by PETA. This brand does not test any of its products or ingredients on animals during manufacturing or distribution. They don't authorize any third-party testing and their products are not available in mainland China. However, Urban Decay is not 100% vegan because some of its products contain animal-derived ingredients or by-products.
Urban Decay started its journey as a cosmetic brand in Southern California in 1996. Since then, it has remained a high-performing and unique cosmetic brand, with L'Oréal being its parent company. 
Animal rights and animal protection are fast becoming a trending topic worldwide, and many industries focus.
The cosmetics and skincare industries are some of the significant sectors under scrutiny; hence, many people are now interested in the ingredient list and testing policy of various brands.
If you are interested in the cruelty free and vegan status of Urban Decay, you will have your answer in this article. 
Is Urban Decay Cruelty Free?
A brand that would be certified as cruelty free must meet specific standards and criteria. Urban Decay has been evaluated based on these standards, and they are as follows; 
Their products or any of its ingredients must not be tested on animals even when requested by law
Their products should not be sold in mainland China 
They should not allow any third-party testing of their products or its ingredients on animals
Are Urban Decay Products Tested On Animals? 
Urban Decay does not test any of its products or ingredients on animals during manufacture, production, or distribution.
The company does not permit any animal testing at any point of product development.

The above is the statement of Urban Decay about its animal testing policy on its official website.
This statement affirms that the company does not test on animals and does not permit any third party to do so on its behalf.
Likewise, the company ensures that all its raw materials and ingredients are not tested on animals by its suppliers or distributors. 
Do they test animals when required by law? Or use a third party? 
Urban Decay does not test their product on animals even when the law requires them to do so. Consequently, the brand keeps its products off areas and regions where testing on animals is mandatory by law for all cosmetic products. 
Likewise, Urban Decay neither uses nor permits any third-party testing.
Also, the company does not authorize its retailers to test their products, and they ensure that their suppliers do not test ingredients on animals. 
Are Urban Decay products sold in China?
Urban Decay does not sell its products in mainland China because animal testing is required by law in China.
The animal testing law in China contradicts the brand's ethical testing policy; hence, the company prefers to stay off the market. 
Does Urban Decay have Cruelty free accreditation certifications?
Urban Decay has notable cruelty free accreditation certifications in recognition of its strict no-animal testing policy. The company is certified by PETA.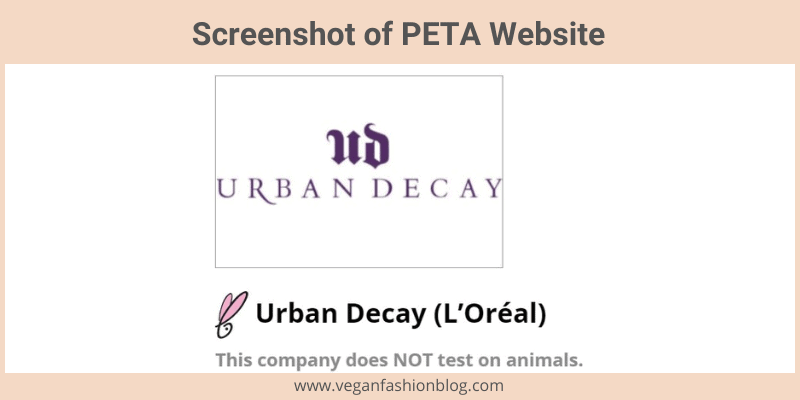 Urban Decay is certified by PETA BEAUTY WITHOUT BUNNIES. This certification means that this company does not test their products or ingredients on animals at any phase of their production processes. 
Is Urban Decay Parent Company L'Oréal cruelty free? 
Urban Decay is a subsidiary brand of L'Oréal. L'Oréal acquired urban Decay as a subsidiary brand in 2012. 
L'Oréal is not cruelty free because they permit animal testing when requested by law. Nevertheless, this does not change the standing policy of Urban Decay of maintaining a cruelty free operation. 
Is Urban Decay Vegan?
Vegan products are products that do not contain any animal ingredients or animal-derived ingredients. Urban Decay cosmetics products are vegan-friendly but not 100% vegan. Some of the company's products have animal-derived materials like lanolin, beeswax, and carmine.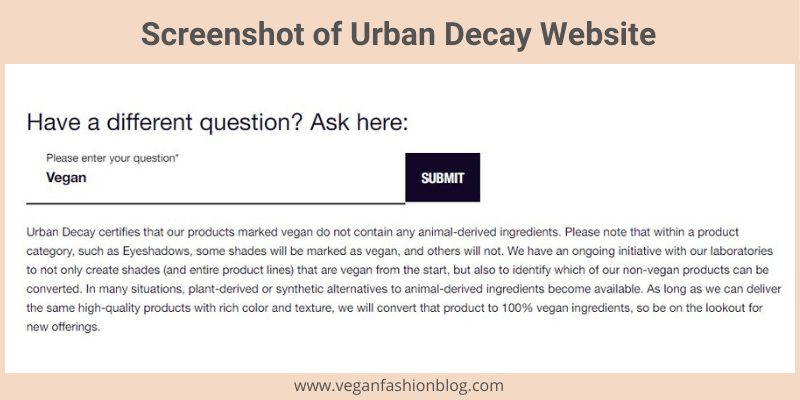 Urban Decay has no vegan certification. Nevertheless, the company has a long list of vegan products. Some of these products include;
Face
The Velvetizer
The Ultimate Brush Off
Stoned Vibes Major Gems Makeup Set
Stoned Vibes Highlighting Powder
Stoned Vibes Eyeshadow Palette
Stay Naked Weightless Liquid Foundation
Stay Naked Threesome
Stay Naked The Fix
Stay Naked Pro Customizer
Stay Naked Face & Lip Tint
Stay Naked Correcting Concealer
Scented Sparkling
Quick Fix Hydra-Charged Complexion Prep Priming Spray
Optical Illusion Complexion Primer
Naked Skin Weightless Complete Coverage Concealer
Naked Skin One & Done Hybrid Complexion Perfector
Naked Skin Color Correcting Fluid
Naked Illuminated
De-Slick Oil Control Makeup Setting Spray
De-Slick Mattifying Powder
De-Slick Complexion Primer
Chill Cooling and Hydrating Makeup Setting Spray
Beached Bronzer
B6 Vitamin-Infused Complexion Prep Priming Spray
All Nighter Waterproof Setting Powder
All Nighter Waterproof Full-Coverage Concealer
All Nighter Ultra Glow Setting Spray
All Nighter Ultra Glow Face Primer
All Nighter Setting Spray
All Nighter Pollution Protection Makeup Setting Spray
All Nighter Liquid Foundation
All Nighter Face Primer
Eyes & Brows
Wired Transforming Liner
Stoned Vibes Eyeshadow Palette
Stoned Vibes 24/7 Glide-on Eyeliner Pencil
Perversion Waterproof Fine-Point Eye Pen
Inked Brow
Heavy Metal Glitter Gel
Eyeshadow Primer Potion
Double Down Brow
Brow Finish Gel
Brow Endowed
Brow Blade
Brow Beater
24/7 Velvet Black Velvet Glide-On Eye Pencil
Lips
Wired Vice Lip Chemistry
Vice Lipstick Chemistry Trio
Vice Lip Chemistry
Stoned Vibes Multidimensional Lip Gloss
Stay Naked Face & Lip Tint
Moondust Lip Eclipse
Lo-Fi Lip Mousse
Lip Plumper
It is best to check through the ingredient list of any product you intend to buy to ascertain its vegan status. 
Summary 
Urban Decay is a cruelty free brand certified by PETA. Despite being owned by a non-cruelty free parent brand.
This company does not sell its products in mainland China. However, Urban Decay is not 100% vegan but has a long list of vegan options.